What are the benefits of wearing basketball shoes? To find out, read on to discover 10 reasons you should wear basketball shoes! From being more comfortable to preventing injury, you'll learn why these shoes have gained so much popularity over the years—and why they're so important. So put on your best pair and start reading! You might be surprised by what you find out!
Reasons to Wear Basketball Shoes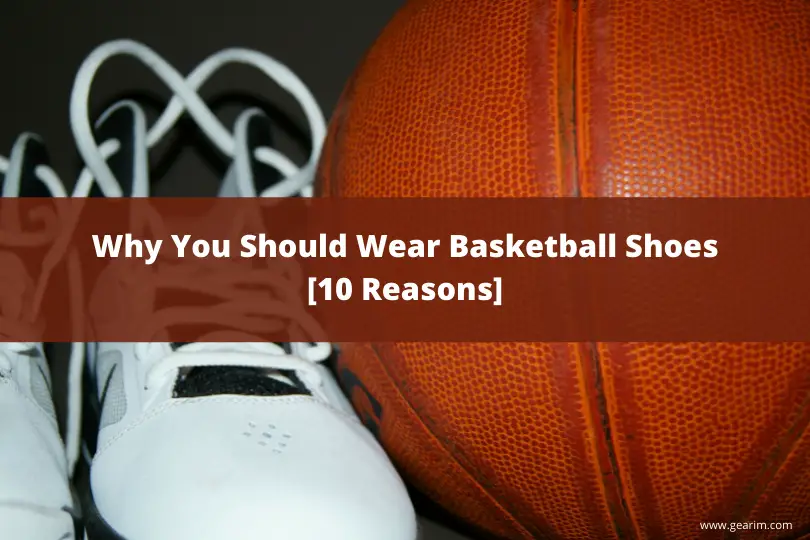 1) Get Proper Foot Support
A basketball shoe offers more than ankle support. It's designed with a wide base, which helps give you optimal foot support while playing ball. This kind of support is important when running up and down the court because it will help to reduce injury risks and keep your body comfortable even on game day. In fact, compared to other shoes, they can improve foot posture by an average of 20 percent! All of these benefits are just a few reasons you should wear basketball shoes instead of other shoes.
Remember: When you get new basketball shoes you need to break them up for comfortability. Click here to know How to break in Basketball Shoes?
2) Comfort While Playing
The importance of comfort while playing can't be understated. No matter how stylish basketball shoes are, if they don't feel good on your feet you won't wear them and you won't play in them. This will have a negative impact on your game because you won't feel as confident, which directly impacts your performance. Wear basketball shoes with high-quality cushioning for maximum comfort and an edge over your competition. 
3) No Slip Soles
Although non-slip soles have become common on all kinds of shoes, basketball shoes should have them for a reason. Wear basketball shoes for better traction and superior comfort and support. If you're going to wear basketball shoes in a game, you need to know that there's no slipping with Nike sneakers on your feet. Your balance will be better and your footing safer with these high-quality basketball shoes.
4) Great Breathability
It's always a good idea to wear breathable shoes that allow air to circulate around your feet. But it's especially important when exercising in hot and humid weather since hot and moist conditions encourage bacteria to grow quickly on your feet. This is why basketball shoes typically have special ventilation systems that let air in to keep you cool. These same ventilation systems also help to keep the odor from building up as you wear them, meaning you can wear these shoes for long periods of time without having an odor issue.
5) Good for Wide Feet
People with wide feet have a tough time finding shoes that fit right. Basketball shoes are typically wider than other types of athletic shoes, which makes them a good choice for people with wide feet. People with high arches also find basketball shoes to be more comfortable than traditional athletic shoes. Additionally, they are often lighter and provide better cushioning to prevent discomfort while playing on hard courts or walking long distances between different venues during tournament play. 
The bulkiness of some shoes also makes it difficult for people with wide feet to achieve precise movements when playing sports like basketball, making such footwear uncomfortable and counterproductive for those who want quickness and mobility in their game.
6) They Fit Well with Layers
Wearing basketball shoes makes it easy to layer your feet. This is perfect if you want to wear socks, ankle support, and other layers that help with support. They Keep Your Feet Comfortable: Basketball shoes provide a light layer between your feet and any surface. If you play on a court or in a gym, basketball shoes have enough padding that your feet won't hurt as much after an intense practice or game. Movement is Easier: If you're doing any sort of regular cardio exercise like walking, running, or hiking, there are specific basketball sneakers designed for these activities—and they allow for more fluid movement than regular gym sneakers do.
7) Wear With Any Outfit
Unless you're a billionaire who spends your days strolling around town in an Armani suit, chances are you'll be wearing a variety of different outfits on any given day. Sometimes, that means changing your sneakers to match your new threads. If you want to wear anything and not look like a scrub, pick up some cool basketball shoes.
8) Versatile
If you play basketball, soccer, or any other sport requiring specialized shoes, then you already know how convenient it is to have one pair of shoes that are versatile. Don't waste money on multiple pairs of shoes when basketball sneakers can do everything you need them to. Pick a nice style and color that fit your personality, and hit all of your sporting events in style while saving time and money with these multipurpose sneakers.
9) Suitable for All Seasons
If you're not an athlete, you might think that basketball shoes are better suited for sports activities like playing basketball. However, they're actually designed to protect your feet and ankles when participating in many different activities. For example, if you work out frequently or lead an active lifestyle, a pair of basketball shoes is great to have around because of their versatility—they can be worn in rain or shine, in hot or cold weather conditions.
10) High Quality Material For Extra Durability
With just a cursory glance, you can immediately tell that high-quality basketball shoes are made of much sturdier materials than regular sneakers. This is to be expected since they're designed specifically for use on a basketball court—and if you slip and twist your ankle on one of these surfaces, you could easily hurt yourself. High-quality materials ensure that your shoes are more durable and sturdy, making them well worth their higher cost. Read more
Conclusion
In conclusion, basketball shoes are a great choice for anyone looking to get into basketball. They are comfortable, durable, and reliable. With such a variety of different basketball shoes available on the market today you can be sure to find a pair that is perfect for you and your needs! Whether you're looking for basketball shoes for playing or casual use there are plenty of great options out there.