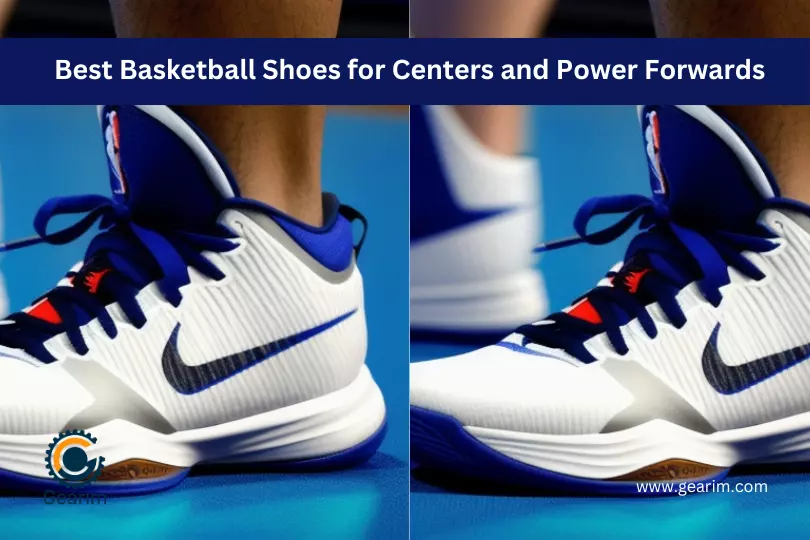 Welcome to the slam-dunk world of basketball, where agility, power, and precision converge on the hardwood.
If you're a center or power forward, you know that every move matters, and having the right gear is essential.
In this guide, we'll be your dribble down the lane, showcasing the Best Basketball Shoes for Centers and Power Forwards.
Lace up, as we explore the perfect footwear to elevate your game, offering support, stability, and that extra bounce when you need it most.
How to choose the right shoe for Centers and Power Forwards?
Choosing the right basketball shoe is crucial for optimal performance and injury prevention on the court.
Here are some key factors to consider when selecting your perfect pair:
Fit: A proper fit is paramount.

Look for a shoe that hugs your foot snugly, providing stability without being too tight. Ensure there's enough room in the toe box for natural movement.

Support: Centers and power forwards need ample support, especially around the ankle.

Look for high-top or mid-top designs that offer enhanced ankle support to protect against sprains and twists.

Cushioning: Basketball involves a lot of jumping and landing, so excellent cushioning is essential.

Choose shoes with responsive and supportive cushioning systems, such as air or foam, to absorb impact and reduce stress on your joints.

Traction: Good traction is vital for quick cuts, pivots, and changes of direction.

Opt for shoes with a durable rubber outsole featuring multidirectional patterns or specialized traction technologies for maximum grip on the court.

Durability: Basketball is a demanding sport, and your shoes need to withstand the rigors of constant running, jumping, and abrupt movements.

Look for durable materials and reinforced areas, particularly in high-wear zones like the toe cap and outsole.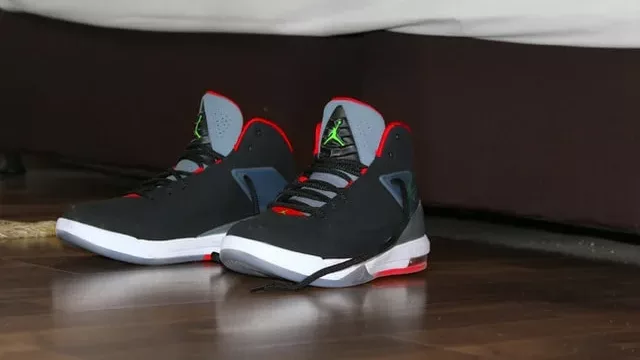 How to Choose the Best Basketball Shoe for Big Guys?
It'essentialnt to make sure the shoe is wide enough for your foot.
Try on different brands and styles of shoes to find out which size is best for you.
I recommend checking out this article that provides a complete guide about Work Shoes for big guys.
The best thing about checking with customer service staff at a specialty store is they're able to measure your feet with the right equipment rather than just guessing if they're wide enough.
That way you can compare how your feet measure up against different models until one feels comfortable without squeezing or having any space in-between your toes.
Also read: Why do basketball players wear tights?
What are the Best Basketball Shoes for Centers and Power Forwards?
Here is the list of our best picks for centers  and Small + Power Forwards
1. Nike Men's Basketball Shoe
TOP PICK
Key Features:
Adjustable strap crosses over the laces
Nike Air Zoom Turbo unit
Lightweight foam midsole
A multi-angle blade pattern
Padded collar
Review
Nike Men's Basketball Shoes, specifically the Nike React Vapor 2, are a fantastic choice for Centers and Power Forwards looking for a balance between comfort, durability, and performance on the court.
The shoe's design leans towards optimal functionality and agility, which matches well with the playing style of Centers and Power Forwards.
While these positions require strength and firmness due to physical contact under the basket, it also demands quick, sharp movements.
The rubber sole of the Nike React Vapor 2 provides excellent traction on the court, ensuring stability and confidence during those pivotal game-changing plays.
One standout feature is the inclusion of the Nike React technology in the shoe's construction.
This technology offers incredibly soft and responsive cushioning that absorbs impact forces during jumps and landings, a crucial aspect for Centers and Power Forwards, who need that extra support due to their constant involvement under the basket.
The shoe's fit is comfortable and snug, allowing for a good range of motion without any tightness or restriction.
This secure and comfortable fit is essential in preventing foot injuries during intense games.
Despite the pros, there are a few aspects of the Nike React Vapor 2 that potential buyers should consider.
They can be on the pricey side, which might not sit well with everyone.
Also, players with wider feet might need a break-in period as the shoe feels a bit narrow initially.
Pros
Excellent traction with the rubber sole.
Responsive cushioning with Nike React technology.
Comfortable and secure fit.
Cons
Can be pricey for some.
Might feel a bit tight initially for players with wider feet.
Despite a couple of drawbacks, the Nike React Vapor 2 offers a great combination of comfort, support, and performance that any center or power forward would appreciate on the court.
It ensures adequate protection and support for the intense physicality these positions demand while also providing the agility they need to play effectively.
The Nike Men's Basketball Shoes: A great choice for those looking for performance without compromising on comfort and style.
2. Adidas Men's Ownthegame Basketball Shoes
Budget PICK
Key Features:
Synthetic sole
The shaft measures approximately mid-top from arch
Superior Cloudfoam cushioning
Durable Adiwear outsole
Review
Adidas has consistently delivered top-quality sportswear, and the Men's OwnTheGame Basketball Shoes certainly uphold this tradition.
This shoe offers a unique blend of comfort, support, and style – making it a strong choice for Centers and Power Forwards in basketball.
The first thing to note about these shoes is their rubber sole.
This provides an excellent level of grip on the basketball court, reducing the risk of slips and falls.
This feature is particularly crucial for Centers and Power Forwards who are frequently involved in high-intensity plays requiring quick movements.
Comfort is another noteworthy aspect of the Adidas Men's OwnTheGame Basketball Shoes.
The interior cushioning is designed to comfortably cradle the foot during energetic maneuvers, thus minimizing the impact and risk of injuries.
Moreover, these shoes carry the brand's long-established connection with sport and commitment to innovation.
They not only serve the practical needs of a basketball player but echo a stylish aesthetic appeal that Adidas is known for.
The design is sleek, simple, and it's versatile enough to coordinate with various athletic outfits.
Yet, it's important to discuss a few limitations.
Some players might find the shoes to be somewhat heavier than other brands, which could potentially affect agility on the court.
The break-in period might also take longer than expected, depending on player usage.
Pros
Excellent grip on the court, thanks to the rubber sole.
Superior comfort through user-friendly interior cushioning.
Stylish and versatile design.
Cons
The weight might be higher compared to other brands.
There could be a longer break-in period.
Nevertheless, the Adidas Men's OwnTheGame Basketball Shoes make a formidable companion for Centers and Power Forwards, offering a solid grip, comfortable fit, and reliable performance.
Whether you're out for a casual game or intense competition, these shoes are designed to bring out the best in your game.
3. Beita High Upper Basketball Shoes Sneakers – Best for Power Forwards
Editors PICK
Key Features:
Rubber sole
Molded heel shield
Anti-slip
Breathable and No Feet Stink
The upper with venting holes
Review
Playing basketball in the wrong shoes can cause your feet to get tired, sore, and even injured. 
Wearing the right pair of basketball shoes is one of the most important things you can do for your game.
The Beita High Upper Basketball Shoes are designed specifically for centers and power forwards because they allow you to be quick on defense while also giving you the support that big men need when playing offense.
These are high-quality shoes that combine comfort with performance so that you will never have to play another game in uncomfortable footwear again.
These shoes are made from breathable materials so your feet don't get hot or sweaty during games, practices, or training sessions.
They're also lightweight enough that they won't slow down your movements on the court either!
With high tops, ankle stability is improved while keeping up flexibility at all times which means fewer injuries too!
Stop sacrificing quality just because it's hard finding good basketball sneakers for big guys.
Pros
Superior Cloudfoam cushioning
Adiwear outsole for added durability

Molded heel shield helps protect the back of your ankle from injury

You'll never have to worry about sweaty feet again!
Cons
Sometimes shoe tongue came right out
4. Adidas Men's Marquee Boost Low Basketball Shoes For Big Men
PICK for Big Men
Key Features:
100% Textile | Synthetic
Molded ankle collar
Herringbone outsole provides extra grip
Review
You've spent years perfecting your game, but you can't find the right basketball shoes to help you take it to the next level.
Basketball shoes are an important part of any player's arsenal, but finding a pair that fits well and offers support is nearly impossible. 
Adidas Men's Marquee Boost Low Basketball Shoes For Big Men offer everything that serious players need; they're lightweight, comfortable, and durable.
These sneakers were designed with big men in mind so they offer superior traction on hardwood floors while still giving you enough room for maximum ankle range of motion.
The full-length boost midsole reduces impact by returning energy back into your step with every foot strike while providing stability at high speeds without weighing down or feeling bulky like most other basketball sneakers do.
Plus these shoes have a great look that will impress both teammates and opponents alike.
Pros
Get the traction you need for hardwood floors.
Superior comfort without feeling bulky.
Feel like a pro with these shoes on your feet.

You'll feel unstoppable out there!

Great for big men
5. PEAK High Top Mens Basketball Shoes Non-Slip Outdoor Sneakers
Best for Outdoor 
Key Features:
Synthetic Sole
Seamless Integrated Weaving & Hot-melt Process
Peak Sta Stabilization Module
Outdoor Rb Upgraded Wear-resistant Rubber
Anti-rollover
Review
A lot of basketball shoes are expensive and uncomfortable.
The PEAK High Top Mens Basketball Shoes Non-Slip Outdoor Sneakers have a seamlessly integrated weaving upper, which allows the shoe to be both flexible and durable.
These shoes feature a hot-melt process that makes them resistant to water, oil, and other chemicals.
They also have upgraded wear-resistant rubber for outdoor use. 
PEAK is an affordable shoe brand that makes great-looking men's athletic shoes for all occasions.
They use premium materials to make their products last longer so you can get more bang for your buck.
Their outdoor high-top sneakers come in a variety of colors so there's sure to be something that fits your personal style!
Whether it's game day or just another ordinary day at work or school, they have what you need to stand out from the crowd while staying comfortable all day long!
Stay stylish no matter where life takes you with these ultra-comfortable men's athletic shoes by PEAK.
Pros
Synthetic sole for durability and comfort.
Seamlessly integrated weaving & hot-melt process for a snug fit.
Peak Sta Stabilization Module to keep your feet locked in place.
Outdoor RB upgraded wear-resistant rubber for grip on any surface, even wet surfaces.
Anti-rollover design keeps you from falling
6. Adidas Men's Tmac Millennium –

Basketball Shoes for Ankle Support
AFFORDABLE
Key Features:
100% Synthetic
Rubber sole
Review
Adidas Men's T-mac Millennium Basketball Shoe is a high-quality, cushioned shoe for walking and playing.
These shoes give you arch support; additionally, it provides added stability through its heel stabilizer.
The Adidas brand name does not disappoint with this fantastic sneaker that seems to have every detail carefully constructed in all aspects of the design so you can expect maximum performance out of these shoes while wearing them.
The perfect pair of sneakers!
I purchased my first pair about two years ago when I was looking for some cheap sneakers because my others were getting worn down on gymnastics balance beam practice – they offered great comfortability combined with durability at an affordable price.
Recently, after doing more online reading into which are the best footwear for gymnastics, I learned that men's Adidas T-MACs are the only basketball shoes allowed for use during local USA Gymnastic events.
Now, with this new information in hand, I am on my way to purchasing another pair of these shoes because they're not only comfortable and affordable but also gymnast-approved!
Pros
Arch support and heel stabilizer for stability.
Cushioned and comfortable.
Durable and affordable.

Upper is made of synthetic leather with forefoot embroidery and TPU support.
Cons
Little bit Expensive

The bottom picks up too much dust
7. Nike Men's Lebron 17 Basketball Shoes
STYLISH
Key Features:
The Nike Air Zoom Turbo unit
Nike's Knitposite material
Heat-molded Yarns
Max Air cushioning unit
Review
The Nike Men's Lebron 17 Basketball Shoes are made with a revolutionary design. 
The shoe's upper is constructed using the innovative Knitposite material, which offers lightweight durability and stretch for superior fit.
A heat-molded yarn construction also helps keep your foot locked in place while you play.
The Nike Air Zoom Turbo unit provides responsive cushioning that keeps you comfortable during play.
It features an engineered mesh that wraps around your foot to provide support where it's needed most, as well as ventilation channels to help reduce moisture buildup inside the shoe so you stay cool and dry throughout your game.
The Max Air cushioning unit delivers low-to-the-ground impact protection by absorbing force from each step taken on the court or field, so you can focus on scoring goals instead of worrying about injuries caused by hard landings or collisions with other players.
Pros
You'll have a responsive cushion.
The shoe is durable and lightweight.
You'll be able to play like the pros.
Your feet will feel more comfortable than ever before.
Great for big men
Frequently Asked Questions
Can centers wear kyries?
Yes, center basketball players can wear Kyries, or any other shoe brand.
The shoe type would largely depend on the player's personal preference, comfort, and performance needs.
They might need to look for features like ankle support, cushioning, and shoe weight.
Kyrie Irving's shoe line with Nike has options with these features.
However, each player's needs may be different, so it's always recommended to try on different shoe options.
What shoes do most NBA players where?
Nike is the predominant brand worn by players in the NBA.
Specific models, like the Nike Hyperdunks and shoes from the Kobe, LeBron, and Jordan lines, are quite popular.
Adidas, Under Armour, and Jordan brand (a subset of Nike) also have significant shares in the NBA market.
Player signature shoes, such as the LeBron James series, Kevin Durant series, or Stephen Curry's Under Armour shoes, are also common choices.
It should be noted that shoe selection can often come down to personal player endorsement deals with companies.
How long do NBA players shoes last?
The lifespan of an NBA player's shoes can vary greatly depending on their personal preference and playing style.
Some players wear a new pair every game, such as Michael Jordan during his career.
Others may choose to wear them for a few games.
However, it is rare for players to wear the same pair of shoes for more than 10-20 games.
This is because the intensity of NBA games can quickly wear out a shoe's cushioning and support features.
The shoes are then often donated or given away after they are worn in a game.
Can a center be a power forward?
Yes, in basketball, a player can theoretically play both the center and power forward positions, depending on their skill set, the team's specific needs, and the strategy of the coach.
These positions are often interchangeable because of their similar roles and responsibilities on the court—both are expected to rebound, defend, and score inside the paint.
This has become more common in today's game with the prevalence of "positionless basketball," where players are expected to be more versatile and play various roles.
However, it depends on the player's ability to effectively perform the duties of each position.
Can power forwards shoot?
Yes, power forwards can and do shoot in basketball.
In fact, modern basketball increasingly encourages power forwards to broaden their shooting range.
In traditional basketball roles, power forwards were typically tasked with scoring close to the basket, rebounding, and playing defense.
However, with the evolution of the game, many power forwards now regularly shoot mid-range jumpers, and many have even extended their range to the three-point line.
This additional range is often referred to as a "stretch" power forward or "stretch four".
Notable examples of such players include Dirk Nowitzki, Kevin Love, and Anthony Davis.
Conclusion
We have reviewed 7 different Best Basketball Shoes for Centers and Power Forwards.
We have mentioned their key features, pros, and cons.
So, you can make an informed decision before going to purchase shoes for your basketball game.
The above-reviewed shoes are also best for small forwards and old guys.
Before buying shoes always make sure to choose the perfect size for your foot.
Also, consider the above-mentioned factors before buying any shoes.
More Resources: