Do white basketball shoes get dirty?
It's a legitimate question if you're thinking about rocking the classic look on your feet.
On the one hand, you don't want to spend time and money cleaning your shoes every week, but at the same time, you don't want them to look filthy when you step out on the court.
Fortunately, it's not hard to find a balance between these two extremes.
Here are some tips on how to keep your white basketball shoes clean without having to spend too much time or effort doing so.
Do White Basketball Shoes Get Dirty?
Yes, White Basketball Shoes Get Dirty if you play often and play hard.
But don't worry.
You can clean them.
You just need to know how.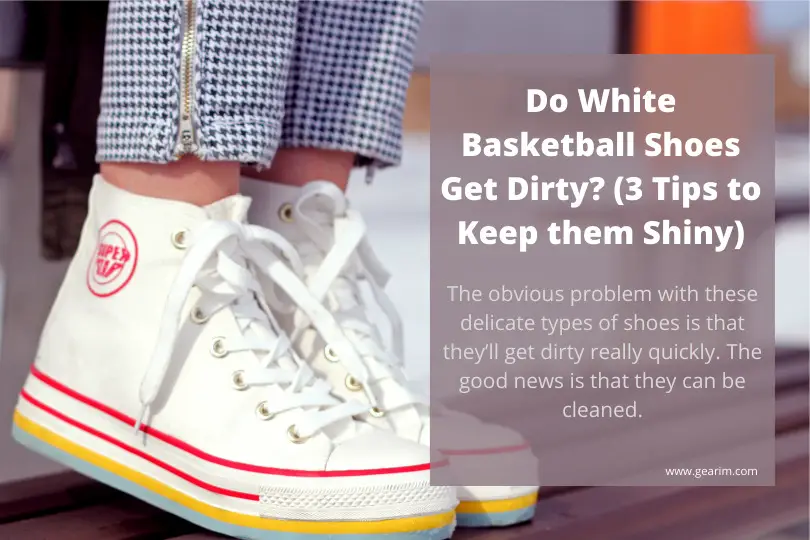 The obvious problem with these delicate types of shoes is that they'll get dirty really quickly.
The good news is that they can be cleaned, but how you clean them depends on how serious you are about keeping them nice.
Some people only want their basketball shoes to last a season, others want them to look as good as new for a year or more.
It also depends on where you play; an indoor court won't get nearly as dusty as an outdoor one.
If you play outdoors in mud, it's really hard to keep your sneakers looking clean at all times!
How to Clean White Basketball Shoes?
If you want to keep your white Basketball  Shoes looking new for as long as possible, follow these simple steps.
If you don't like to spend too much time and effort on cleaning, here are some quick ways to clean white shoes, that will get your favorite pair of sneakers looking shiny and new again in no time at all.
If your shoes are very dirty, first make sure to check for loose laces and remove them.
Then, get a toothbrush and use it to gently clean off any dirt from both sides of each shoe.
Once that's done, take a damp cloth and wipe your shoes dry. 
Now you can use some mild detergent to wash off stains and dirt on your shoes if needed.
Simply apply a small amount of soap or detergent onto a soft cloth and gently rub it onto your shoes, making sure not to leave any residue behind. 
Use a dry cloth to wipe off excess water, then set them by a window or in front of a fan so they'll air-dry quickly. 
If your shoes are still looking dull, try applying any type of shoe polish onto a soft cloth and rub it onto your shoes.
Buff it out with another soft cloth to remove any extra shine and make sure you don't leave any residue behind. 
If you like, you can also use a leather cleaner specifically designed for white sneakers or white athletic shoes that will not only clean your shoe but also restore its original color and shine as well!
How To Keep White Basketball Shoes Clean (Tips)
If you have white basketball shoes, you know that keeping them clean can be a hassle.
This is especially true if you are just playing for fun and don't have money to buy new shoes all of the time.
But cleaning them doesn't have to be difficult.
Follow these three tips to keep your shoes as white as possible.
Avoid Stains at All Costs 
When it comes to caring for your basketball shoes, prevention is better than cure.
You can't really get rid of stains once they have happened, so there's no point in letting dirt or grime stick to your shoes in the first place!
The best way to avoid stains is by making sure to wipe down your shoes after every use.
In addition, always brush off any dust or dirt before putting them away.
One of the best ways to ruin your sneakers quickly is by getting them wet.
While sweat may not seem like a big deal when you step out onto the court, even small amounts of moisture can cause molding on materials like leather.
As with avoiding stains, one of the easiest ways to stop water from affecting your shoes is by wiping them down after each use.
Simply using paper towels (or whatever else you have handy) will help ensure that water doesn't seep into any cracks or seams.
You can check out the best water shoes for rocky beaches.
Treat Them With Products Made For Cleaning Sports Gear 
Even though basketball shoes should hold up over time, some damage might occur as a result of weather or normal wear and tear.
To prevent such issues and extend the life of your footwear investment, consider investing in quality products made specifically for sports gear.
Many shoe cleaning products offer an array of features that could help you keep your gear looking its best between washes – preventing permanent staining and shrinking that can often take place over multiple wash cycles.
Frequently Asked Questions
Are there any specific cleaning methods for white basketball shoes made of synthetic materials?
Specific cleaning techniques for white basketball shoes made of synthetic materials include using a soft toothbrush and mild detergent to remove dirt and stains.
Recommended cleaning products include a leather cleaner designed for white sneakers and shoe polish for restoring shine.
Can I use bleach to clean my white basketball shoes?
Using bleach on white basketball shoes can be effective for removing tough stains and restoring brightness.
However, it can also weaken the shoe material and cause discoloration.
Alternative cleaning methods, such as mild detergent and toothpaste, are gentler options.
How often should I clean my white basketball shoes?
White basketball shoes should be cleaned regularly to maintain their appearance.
Scuff marks can be removed by using a soft toothbrush and a mild detergent.
The best cleaning products for white basketball shoes include leather cleaner and shoe polish.
Can I machine wash my white basketball shoes?
Machine washing white basketball shoes is not recommended as it can damage the shoes.
Hand washing with mild detergent and lukewarm water is a safer alternative.
Other cleaning methods include using toothpaste, baking soda, and water.
Are there any specific tips for preventing the yellowing of white basketball shoes?
To prevent the yellowing of white basketball shoes, it is important to avoid exposure to sunlight and harsh chemicals.
Using whitening agents such as hydrogen peroxide or baking soda can help remove yellow stains and restore the shoes' original color.
How Long Does it Take to Clean White Basketball Shoes?
The short answer is that it depends on a number of factors: How often you play or train, how dirty your shoes get (and what you wear them in), and what material they're made of.   In general, expect to spend anywhere from 20-30 minutes cleaning your white basketball shoes every couple of weeks if you exercise once or twice per week—or an hour-plus if you work out more frequently than that. 
Best way to clean the bottom of basketball shoes?
Generally, you can clean your basketball shoes by wiping off dirt and debris with a dry cloth.
If your shoes are really dirty, try using diluted mild soap with lukewarm water and a soft toothbrush to scrub them.
You should never use harsh or abrasive cleaners or household products on high-end sneakers.
Do White Shoes Get Dirty Easily?
As a white athletic shoe enthusiast, I can tell you that white shoes do get dirty.
Although light-colored footwear is always a good look, it's important to clean and maintain your shoes if you want them to retain their original appearance.
Here are some tips on how to keep your whites white.
Should I get white basketball shoes?
Unless you plan on being a professional basketball player, it's probably not worth investing in white basketball shoes.  They tend to show dirt quickly,  but you can clean them with water and mild detergent if necessary.
Are you already a basketball player?
Do you lift heavy or light?
Let's know in the comments section.
Final Thoughts
Your white basketball shoes are going to get dirty.
That's a fact.
But that doesn't mean you need to run out and buy new ones.
We have explained above how easy it is to clean your white basketball shoes using toothpaste, baking soda, and water. 
We hope you enjoyed our post on "Do White Basketball Shoes Get Dirty".
As always we love hearing from our readers so please feel free to leave us some feedback in our comment section below!
Thank you again for reading!
Useful Resources